About us
We have designed and manufactured Gas, Fire and Level detection equipment, Navigation Panels, Bridge Safety together with Air Conditioning control units, for more than 30 Years. Privately owned, we supply land and marine markets with detection and alarm equipment, both standard and specially built, to the highest Intrinsically Safe or Flameproof standards with approvals from the American Bureau of Shipping and ATEX.
SafeContractor Accredited and CCNSG Safety Passport Trained


Electronic Devices has been awarded accreditation from Alcumus SafeContractor for achieving excellence in health and safety in the workplace. Alcumus SafeContractor is a leading third party accreditation scheme which recognises extremely rigorous standards in health and safety management amongst contractors.
All calibration engineers have received an ECITB CCNSG safety passport after completing a two day health and safety training course and we also have SafeContractor acceditation that shows our health and safety practices are suitable for our work activities.
New Type 3 Power Supply and ED820 and ED816 Fire Detection Equipment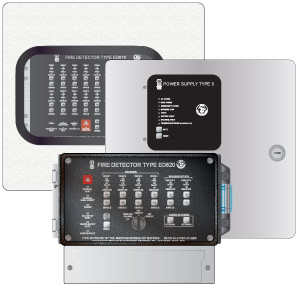 The ED820 and ED816 Fire detection control panels have now been updated with a range of new features which increase the control to the user. The ED820 and ED816 now include zone disablement, key switch entry to access authorised user controls and programmable sounder options. The ED816 fire alarm panel features two monitored sounder circuits.
The ED820 and ED816 when combined with the new Type 3 power supply conforms to EN54. The Type 3 power supply now includes new functionality including input fault to connect to suitable control panel. Charger/ battery fault and maximum load fault indication, it can also now be silenced and reset with front panel push buttons.
EDNIR Infra Red sensors with digital display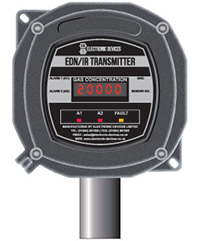 The EDN/IR series of transmitters use the very reliable NDIR (Non dispersive Infrared) sensor technology to monitor the presence of carbon dioxide, methane or propane (depending on model).
The Infrared sensor is SIL2 approved and has a wide operating temperature and humidity range. This technique is based upon the fact that gas has a well defined light absorption curve in the infrared spectrum that can be used to identify and detect specific gases.
The EDN/IR is equipped with electronics and firmware that provide linearised and temperature compensated analogue output in the industry standard 4-20mA output format.
Subscribe to our mailing list
The Electronic Devices Newsletter is now available for signup using the simple form below and on our contact page. Signup now to recieve the latest news on services and products.